If you have any information about these crimes or any person(s) involved, you are urged to call Crime Stoppers or submit a Web Tip.
Missing Person - Antonio Vela Jr.
June 15, 2017
Victoria Crime Stoppers is requesting information regarding the disappearance of Antonio Vela Jr. Vela is a 38 year old Hispanic male. He is 5'9" and 175 lbs. He was last seen at a local business on June 15, 2017. His vehicle was found outside the city limits of Victoria, in Victoria County, the next day.
---
Murder of Leroy Sanchez
October 04, 2015
On October 4th, 2015 at 7:31 PM officers responded to the 900 block of S Navarro St. in reference to a shooting. Officers located 22 year old Leroy Sanchez dead in a front yard at this location.
---
Murder of Walter Arnold Sr.
December 04, 2008
On December 04, 2008 at 08:08 am, Walter Arnold Sr. was found dead in his home at 701 Morning Glory Dr. He was 68 years old. Investigators with the Victoria Police Department believe this death is a murder and continue to investigate.
---
Murder of Kennan Burden
November 12, 2002
On November 12, 2002 at 12:38 am, Kennan Burden was killed on the 100 block of East Basin St. He was 25 years old. The Victoria Police Department continues to investigate this murder and asks anyone with information about the death of Burden to contact Victoria Crime Stoppers.
---
Murder of John Godfrey
December 05, 1976
On December 5, 1976, John Lawrence Godfrey was reported missing by his family. His vehicle, a bluish green station wagon was found later that day on the 300 block of E South St. Two days later, at approximately 10:20 am, Godfrey's body was located on Hiller Rd. His death was ruled a homicide.
---
Murder of Eloise Watson
June 23, 1976
STATUS
: OPEN
On June 23, 1976, the body of Eloise Watson was discovered in an apartment on the 200 Block of E Commercial St. Watson, an 84 year old white female, had last been seen alive approximately 4 days prior by tenants of the apartment building. An autopsy confirmed Watson had been murdered.
*Pictures courtesy of Victoria Advocate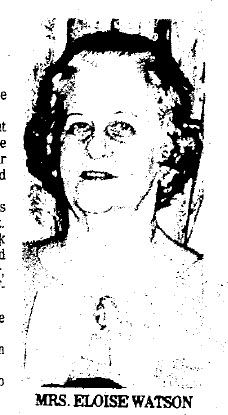 ---
Murder of Sam Towell
January 08, 1973
STATUS
: OPEN
On January 8, 1973, at approximately 7:05 pm, an unknown assailant attempted to rob Sam Towell at his business on the 100 Block of E Water St. Towell died later that evening at Detar Hospital, succumbing to injuries sustained during the robbery.
*Pictures courtesy of the Victoria Advocate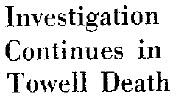 ---
Murder of Lynn Holeman Dean
October 21, 1970
STATUS
: OPEN
On October 21, 1970, at approximately 1:00 pm, Lynn Holeman Dean was found dead at a liquor store on the 2300 Block of Port Lavaca Dr. Officers with the Victoria Police Department discovered her body while investigating a robbery of the store. Dean was a 24 year old white female who worked at the store.
*Pictures courtesy of the Victoria Advocate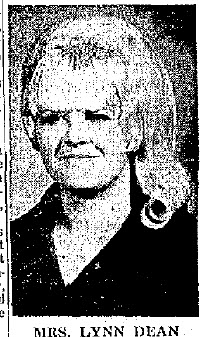 ---